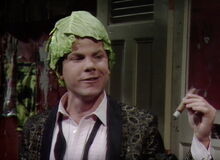 Cabbage Head is a recurring character played by Bruce McCulloch.
Biography and Physical Description
Edit
Cabbage Head is an adult male with leaves of cabbage in place of the hair on his head. He typically dresses in a tuxedo shirt and smoking jacket, and is almost always seen with a cigar. His preferred alcoholic beverage is rum with rye.
He claims that he needs to periodically water his head, lest he otherwise go bald. He also claims that he experienced a troubled childhood, noting that his peers would not allow him to engage in their "playful games," and that his father—a farmer—once got drunk and attempted to harvest his head. 
In "Clandestine Meeting, part 2," Cabbage Head is the victim of an assassination attempt in which a militant group called the Humanoids for Humanism led by Shona shoot him in his cabbage head. During a near-death experience, Cabbage Head experiences a vision in which God himself also has a cabbage on his head. He later shares his experiences on a talk show hosted by Mr. McKim.
Appearances
Edit
Cabbage Head appears in the following sketches:
"Cabbage Head"
"Restaurant"
"Old Friends"
"Clandestine Meeting, part 1"
"Clandestine Meeting, part 2"
"Clandestine Meeting, part 3"
"Regrets"
Community content is available under
CC-BY-SA
unless otherwise noted.